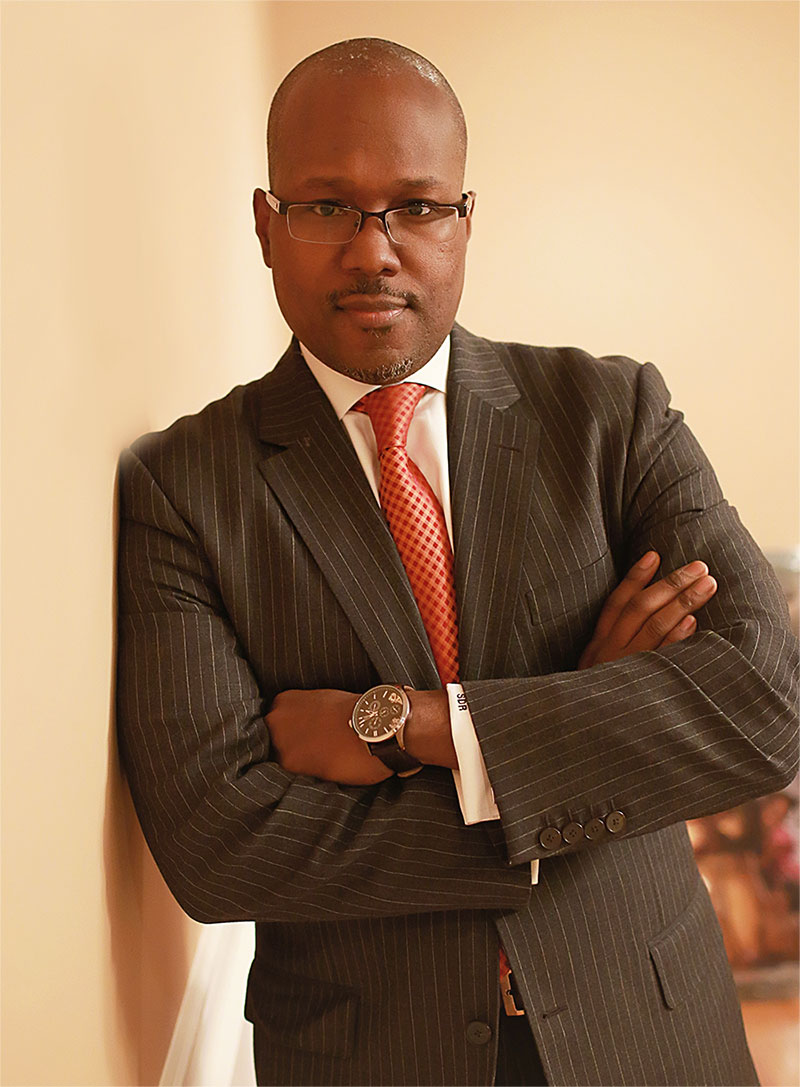 Shawn D. Rochester is the CEO of Good Steward LLC (GSL) and the founder of PHD Enterprises, and the IDEA Institute.
These organizations provide financial education and advisory services to consumers, increase the presence of Black employees and enterprises in US public and private sectors payroll and supply chains, and facilitate commerce between the Black business community across the African Diaspora and on the African continent.
Shawn is also an author and sought-after speaker who has spoken on Wall Street, in Silicon Valley, at leading universities and the United Nations about the staggering financial cost of discrimination against Black people in America and a new economic framework to help create the millions of jobs and businesses that are missing in the black community. Shawn has received citations from the New York State Assembly and the New York City Council for his work in economic development and was also selected by the International Human Rights Commission Relief Fund Trust (IHRC-RFT) to be listed in its 2019 almanac as one of the Top 100 Human Rights Defenders for his efforts to educate people on the financial cost of discrimination (past and present) against members of the African Diaspora in America.
In addition to this, Shawn is also a seasoned corporate development and strategy executive who has (1) extensive strategic planning experience with global industry leading organizations in the midst of major technological change in the market place (2) executed over USD $500 million of transactions in United States, China, Japan, Germany, Malaysia and Singapore and has evaluated scores of potential acquisition targets (3) a deep understanding of the global competitive landscape having spent 6 years travelling extensively to 25 cities in 10 countries across Asia and Europe in pursuit of new organic and inorganic growth opportunities, and (4) led cross functional teams including engineering, manufacturing, legal, finance, tax, treasury to execute complex cross border projects to drive incremental revenue and profit.
During his time in the private sector, Shawn was the Global Director of New Business Development, responsible for mergers, acquisitions and identifying new growth opportunities for Amphenol Corporation's $1.2 billion portfolio of businesses covering the IT and Data Communications marketplace. Earlier in his career Shawn worked for IBM Corporation in Corporate Development, Finance & Planning, and Treasury. Shawn also was a member of IBM's Emerging Business Opportunities (EBO) program which has been featured in a Harvard Business School Case study and a Stanford Business School Research Paper. As a member of the EBO program Shawn represented Corporate Finance and worked closely with Corporate Strategy and various global general managers to identify, fund and monitor 17 businesses that generated over $10 billion of revenue. Shawn has also had leadership roles in new product development, operations management and IT project management at Amphenol and International Paper Co.
After his time in the Private sector Shawn shifted his focus to increasing educational outcomes for our youth and was accepted into the Prestigious Broad Residency in Urban Education as the Associate Director of State Assessment at the New York City Department of Education where he developed and managed a $20 million budget to accurately and effectively score 1.6 million assessments and also served as a liaison between the NYC DOE and the New York State Department of Education.
Following his time at the NYC DOE and desiring to have a more direct impact on students and families, Shawn was asked to join PDYM, a Connecticut based nonprofit to help position the organization for the next level of growth and greater impact as it sought to transform life outcomes for economically disadvantaged youth by providing them with a great education through its private all boys middle school, after school & summer school programs, and formal mentoring programs. As Executive Director of PDYM, Shawn oversaw day to day operations, led a team of 33 employees, worked with the principle and teachers to increase the rigor of the curriculum, and architected a 5-year fund development model that increased the Board of Director's giving by 10x and overall fund raising by 5x. Shawn implemented a new integrated website and executed a new marketing and communications strategy to better inform the community about the transformative impact of the organization, which generated new donors, mentors, tutors and volunteers.
After having worked in the Corporate sector helping to create billions of dollars in wealth and the educational sector seeing the direct impact the lack of wealth on our communities and educational outcomes for our children, Shawn founded Good Steward LLC, PHD Enterprises, and the IDEA Institute to focus on closing the wealth gap by helping to create jobs, create and expand businesses and provide capital in the Black Community.
Shawn has a Bachelor of Science in Chemical Engineering from The University of Rochester and a Master's degree in Business Administration from The University of Chicago Booth School of Business with a focus in Accounting, Finance and Entrepreneurship. He is the author of The Black Tax: The Cost of Being Black in America and CPR for the SOuL: How to Give Yourself a 20% Raise, Eliminate Your Debt and Leave an Inheritance for Your Children's Children.