On February 27th, AllianceBernstein's Black Employee Resource Group hosted financial coach and author, Shawn Rochester and over 150 guests for an insightful discussion on Shawn's recently released book, "The Black Tax: The Cost of Being Black in America".
While Black Americans have long felt the devastating effects of anti-black discrimination, they have often had difficulty articulating and substantiating both the existence and impact of that discrimination and identifying practical solutions to help course correct. Professionals in academia, the media, the business community, along with people in the general public, have struggled to explain and quantify the significant and persistent gaps (in wealth, employment, achievement and poverty) between Black and White communities in what many perceive to be a post racial America.
Backed by fact patterns, data and research, Shawn illustrated how The Black Tax (which is the financial cost of conscious and unconscious anti-Black discrimination), creates a massive financial burden on Black American households that dramatically reduces their ability to leave a substantial legacy for future generations. He also laid out a solutions-based focused framework based on the concept of "PHD"- Purchasing, Hiring and Depositing (in Black enterprises) and how it can help to chart a new financial course to create more businesses, jobs and prosperity in black communities.
We at AB were more than happy to do our part to contribute to "PHD", so made a deliberate effort to source the food and drinks for the cocktail reception from black owned businesses. The menu was curated by Chef Jerome Grant, inaugural executive chef of the historic National Museum of African American History and Culture in Washington, DC. The desert was provided by Millie Peartree Cupcakes in the Bronx, NY. Finally, the wine was from Stellenbosch, South Africa and the beer was from Kenya.
I thank everyone who joined us for this very important, yet rare discussion. We look forward to continuing to bring these types of topics to the surface for our employees and our colleagues across industries.
Source: https://www.linkedin.com/pulse/alliancebernstein-explores-black-tax-cost-being-america-janessa-cox/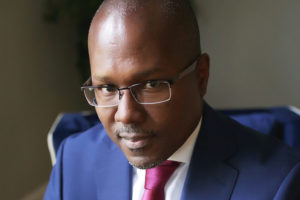 About the Author – Shawn D. Rochester is the CEO of Good Steward LLC (GSL) and the founder of PHD Enterprises, and the IDEA Institute. These organizations provide financial education and advisory services to consumers, increase the presence of Black employees and enterprises in US public and private sectors payroll and supply chains, and facilitate commerce between the Black business community across the African Diaspora and on the African continent. Shawn has a Bachelor of Science in Chemical Engineering from The University of Rochester and a Master's degree in Business Administration from The University of Chicago Booth School of Business with a focus in Accounting, Finance and Entrepreneurship. He is the author of The Black Tax: The Cost of Being Black in America and CPR for the SOuL: How to Give Yourself a 20% Raise, Eliminate Your Debt and Leave an Inheritance for Your Children's Children.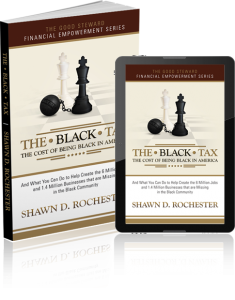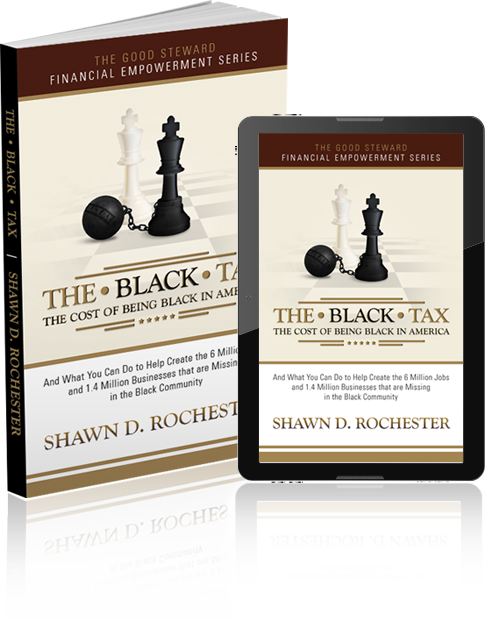 Purchase your copy of the Highly Acclaimed Book The Black Tax: The Cost of Being Black in America here